Customer Comments


"I have always wanted a Rebello engine. When I started with a Z car back in the eighties, I was impressed with what Andy Craig was doing with his Rebello powered Z. There is no doubt that Rebello builds the most powerful engines and Dave knows how to build an engine that delivers the kind of power you need for your application be it autocross, road racing, drag or street.



The most surprising thing is how personal Dave is with his business. I am in customer service myself and know how difficult it is to maintain. Dave is such a professional and keeps his customers well informed so there are no surprises or disappointments with the final result."
Click for Race Video

John Thomas
17 Time SCCA Solo II National Champion & 8 times Pro Solo National Champion. Record for the most consecutive Solo II National Championships. 1991, 2006, 2007, 2008, 2009 and 2010 SCCA Solo II FP class National Champion in a Datsun 240z with Rebello power.
Click for more about John Thomas


---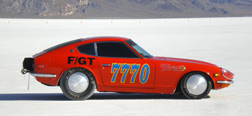 "After years of working on Z-Car engines trying to beat the F/GT record at Bonneville, I needed some rods for another attempt at putting an engine together. I was searching on the web for parts and came across the Rebello Racing page. I navigated around the site for about 15 minutes and then decided to call. I did get Dave on the phone and I think we talked for about 45 minutes. It was clear to me in that 45 minutes Dave was the guy that could make the Bonneville record a reality. I gave him my credit card number before we hung up and started planning to get him the intake manifold and carbs he agreed to use. THIS WAS THE BEST PHONE CALL I MADE! Dave and the guys at Rebello Racing really know what they are doing. I have found if you want to succeed in Racing, you need to rely on some experts in different areas. Rebello Racing is your source for the engines, hands down.
The first attempt came at the World Finals in 2009 where we came within .8MPH of breaking the record. We were really just learning what to do and if we had not had some fuel system problems we would have broken the record on our next run. June of 2010 we unloaded the car at East Coast Timing association and made 7 passes. Each one a new record. September 16-17 2010 at the World of Speed at the Bonneville Salt Flats the car Qualified and backed up the run to average 172.9 MPH. This broke a 25 year old Ferrari record. Quite a few people have tried to break this record over the years…….apparently none of them talked to Dave."
Bonneville Nationals Inc. 2013 Certified Records
Victory Motorsports Driver Douglas "Burton" Brown and his Dad (Donald)
View Video of Bonneville Run
---
"Our first and most substantial project with Dave Rebello was a 3.5L Nissan V6 project for our SCCA GT2 car. GT2 is considered the state of the art for SCCA in the sports car classes. Our engine was spec'd with a single restrictor of 37mm and needed to make nearly 380 hp.
After much discussion with several possible engine builders, we decided to use Dave for three reasons: First, his currency with the latest technologies and approaches. Dave is not set in his ways and is constantly pushing himself to find new ways to make more power. Secondly, his use of computer modeling to "get us close" and many years of intuition to know when the model wasn't "getting it right" on something. Thirdly, his personality and general ability to work with others. He communicates well and is willing to explain and listen to ideas from non-experts and give them due consideration.

In the end our project was a huge success – a reliable engine that made target horsepower on the first attempt! We immediately caught up with everyone else in the class who were on their 4th and 5th engines and had done years of development. Dave immediately got it right on without trial and error.

Since this first engine has been completed, we have purchased 4 more engines from Dave and several cylinder heads to retrofit our older motors. In the classes we race in, no one has more power than our Rebello powered cars; we now have no excuses except the drivers…"
Click here for in car video of Bob Lentz racing at VIRGINIA INTERNATIONAL RACEWAY.

Bob Lentz and Bobby Lentz II
Bob Lentz, has been racing for about 20 years. He currently races a Nissan 300ZX in the GT2 class. Bobby Lentz has been racing for five years. In 2007, he was the SCCA Northeast Division champion in his G Production class Nissan 510. In 2008, Bobby has upgraded to a purpose-built, tubular space frame Nissan Sentra classed in GT-Lite.
---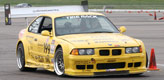 "I have been using Rebello race motors since 1994 starting with my 240z. Dave is truly one of the top experts on Zcar race preparation. When it comes to BMWs, he has had a lot of experience with the world challenge guys. He can build an in-line six engine like no one else. For me Dave has done some awesome work on my race motors. He does every thing I have asked for and more. He has always been a really fair guy to work with. He doesn't hide anything and will tell you everything that is needed. He will usually tell you how much horsepower it will make and he works hard to get that result. Working with Dave is kind of like working with my dad. He is someone who will question me and help me achieve my ideas through his experience." SIAS Tuning
Click here and find video of Vic racing his BMW and 240Z.

Vic Sias- 2001 SCCA Solo2 BSP National Champion
- 2001 SCCA Solo2 San Francisco Region Divisional BSP Champion
- 2001 SCCA Solo2 San Diego National Tour BSP Champion
- 1998 SCCA Solo2 BSP National Champion
- 1997 SCCA Solo2 Los Angeles National Tour BSP Champion


---
"In the eighties I won three SCCA F Prepared autocross national championships with my Rebello powered Datsun 240z. Again in 1998 I won the BSP class championship in Vic Sais's 240z with an engine prepared by Dave Rebello. I also won a couple of ITS west coast road racing championships with a

Rebello powered 240z. The amount of horsepower that car made was amazing. From the very beginning Dave was fair with his service and pricing. I didn't start with a full engine build but every step we took it made more horsepower especially when he reworked the head. I have never had a Rebello engine fail, not once. In fact, I sold the 240z with the original race L28 engine still in it and with a new crank its running strong today, 20 years later."


Andy Craig
Four time F Prepared SCCA Solo II National Champion in a Datsun 240z with Rebello power.


---


"I started racing in 1992 with a Datsun 510 and Rebello built motors. We did fifteen to twenty races per year and I had a lot of GT4 wins. We pretty much dominated the class so the others had to race for second place. Dave always came through with a beautiful motor that had the most power. I never blew or holed a motor in all that time. One year I ran sixteen races on one engine before I took it apart and it looked like new. Dave truly made my racing years fun, we had a ball and it was some of the best times I had in my life."


John Olsen
Nasport national standings: first place 1995, 2000 - second place 1994, 1996, 1999 - third place 1993. Set GT4 track records at Portland, Seattle, Mid Ohio, Laguna Seca, Sears Point, Willow Springs and the SCCA run offs.