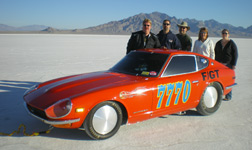 240Z Breaks Record At Bonneville
F/GT Record 172.9 MPH!
September 16-17, 2010 F/GT Record 172.9 MPH
Qualifying run Sept. 16th 10:32 AM 172.275MPH
Return Run Sept. 17th 8:53 AM 173.673
1972 Datsun 240Z
3L Rebello Racing Built Engine
On September 17th 2010 a 1972 Datsun 240Z Powered by a 3Liter, L6 Rebellorace engine broke the 25 year old F/GT record at the World of Speed at a USFRA sanctioned event. Victory Motorsports Driver Douglas "Burton" Brown together with his Dad (Donald) realized a long term effort by beating this record by more that 4.2 MPH. The record, was previously held by a Ferrari 308 QV.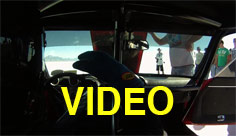 "Car was ready to load Sept. 12, 2010. We set out a little early only to end up spending 63 hours getting the 1800 miles put behind us. A Broken Hydraulic pump on the tow vehicle left us on the side of the road in Nebraska for 33 hours.
After arriving at the track we passed Tech inspection on Sept. 14th. On the 15th our first run was cut short with a shifter problem. After a quick fix in the pits we were back up to the line for our next run. The runs were done for the day but we were given a number for a place in line the following morning.
On the 16th our first run qualified us for impound at 172.275. The car went to impound where the next morning we backed up our run with a speed of 173.673. The average of the two runs set the new record at 172.9 MPH. There is still some speed left in the car and we believe we can get it up over 180 with this engine and stock body. We would like to move up 1 engine class in the E – engine (4.2L) and see if we can break the 200mph mark. You will have to wait and see if this happens." Bonneville Nationals Inc. 2013 Certified Records