Rebello Racing
Since 1984 Rebello Racing has specialized in preparing racing engines as a family owned business. Rebello built motors have gained a solid reputation for producing the most power and reliability among the top competitors in road racing, autocross, drag as well as high performance street applications. The technical expertise and dedication to excellence shows in every project. To find out more, click here.


---
240Z Breaks Record At Bonneville
Rebello powers Burton Brown to his F/GT record at 172.9 MPH!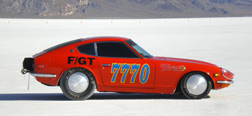 On September 17th 2010 a 1972 Datsun 240Z Powered by a 3Liter, L6 Rebello race engine broke the 25 year old F/GT record at the World of Speed at a USFRA sanctioned event. Victory Motorsports Driver Douglas "Burton" Brown together with his Dad (Donald) realized a long term effort by beating this record by more than 4.2 MPH.
"The first attempt came at the World Finals in 2009 where we came within .8MPHof breaking the record. We were really just learning what to do and if we had not had some fuel system problems we would have broken the record on our next run. June of 2010 we unloaded the car at East Coast Timing association and made 7 passes. Each one a new record. September 16-17 2010 at the World of Speed at the Bonneville Salt Flats the car Qualified and backed up the run to average 172.9 MPH. This broke a 25 year old Ferrari record. Quite a few people have tried to break this record over the years…….apparently none of them talked to Dave Rebello."
Bonneville Nationals Inc. Certified Records
More News on Bonneville record
Other Customer's Comments
---
Thomas Pushes All Time Autocross Record Higher
John Thomas wins his 17th consecutive SCCA Solo2 National championship
"At the SCCA Solo II Nationals Championships, I was the recipient of yet another great example of why Dave Rebello is a top notch engine builder and all around great guy. Upon unloading my car at Nationals and firing it up, there was a significant miss in the motor. After a little head scratching and investigation it was evident that spark plugs for high compression motors are not supposed to last 6 years, obviously poor maintenance on my part. The trick was finding those type plugs in Lincoln Nebraska. A quick call to Rebello and the phone was answered by one of Dave's staff. They provided me a few alternate plugs types but knew the odds were slim so they prepped a set of race plugs and were prepared to overnight them to me in a moments notice. Dave himself actually got involved and provided one more alternative plug type of which a fellow competitor happened to have a spare set. Once installed it ran as good as the day Dave built it, again 6 years ago and it catapulted me to a 1.1 second win over the class. Its simply an amazing engine built by an amazingly customer focused shop. Big thanks to Dave and his staff." More About Customer Focus

John Thomas
17 Time SCCA Solo II National Champion & 8 times Pro Solo National Champion. Record for the most consecutive Solo II National Championships. 1991, 2006, 2007, 2008, 2009 and 2010 SCCA Solo II FP class National Champion in a Datsun 240z with Rebello power.
---
Performance Parts
Rebello is now offering parts that have proven performance gains on the track and dyno. Many years of experience are represented in the selected parts offered. Look over the Performance Parts lists and give Rebello a call to discuss what improvements can be expected for your application.

---
Our Services
As technology continues to evolve, so does the development of new approaches to race engine building and tuning.Rebello Racing is committed to implementing the latest in Motorsports technologies to provide customers with outstanding performance. Check out the Performance Services section.